Home / Products and Services / Industry Served / Quality / Tooling / Prototypes / Production Parts / Inspection and Reverse Engineering Services
Complex Assemblies / Equipment List / Aerospace / Architectural / Automotive / Commercial / Medical / Marine /Where We Are / Request Brochure / E-mail
Vacuum Fixtures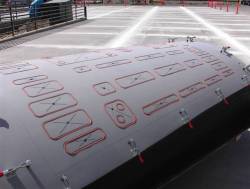 This vacuum fixture tool was designed and built by Dangar.
Holds down skin panel for Gulfstream corporate jet during NC trim and drill operations.
Tool surface consists of aluminum-filled epoxy machined to an RMS 32 finish.
This epoxy has the advantages of being lightweight, allowing easy access to hoses, and curing tools at 350 degrees F.
Tool also includes rigid steel base plates and contour header boards, appropriate vacuum lines and clamps, and silicone O-rings.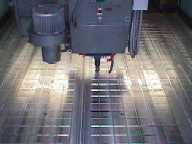 Fixture designed and machined to hold aluminum sheet in place. Fixture holds parts for aluminum floors for the 757 aircraft.